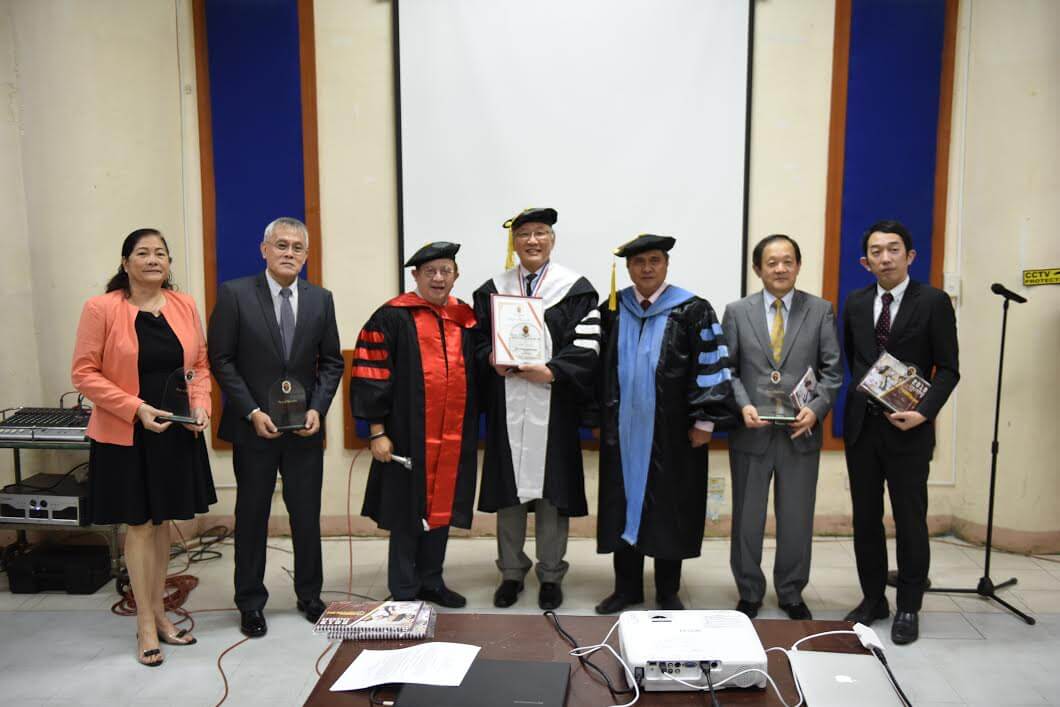 The week-long celebration of UPHSD's founding anniversary ended with an International Conference on Moralogy, held on February 16, 2019 at the Amphitheater, 3rd Floor Tamayo Towers. The Conference centered on gratitude as a virtue, highlighting the definitions, cross-cultural studies, and its Japanese and Filipino concepts.
The resource persons were distinguished professors of Reitaku University, one of the institutions that promote high moral education in Japan. They were Dr. Osamu Nakayama, President; Dr, Kazunobu Horiuchi Vice President for Student Affairs; and Dr. Kazuhiro Miyashita, Associate Professor. Their local counterpart was Dr. Gabriel Archemedez Flores, Linkages Director who presented the highlights of the research he made with Dr. Belinda Conde, Research & Development Director.
One of the highlights of the Conference was the conferment of Honorary Professor Emeritus to Dr. Osamu Nakayama for his meritorious contributions in the moral and ethical education of students according to the tradition and legacy handed down by Dr. Chikuro Hiroike, founder and initiator of the Institute of Moralogy.
The event concluded with the signing of the renewal of the Memorandum of Understanding between UPHSD and Reitaku University in consideration of expanding the basis of friendship and educational exchange.
The 2nd International Conference on Moralogy was sponsored by the Linkages Office, Research and Development Center and the Graduate School.