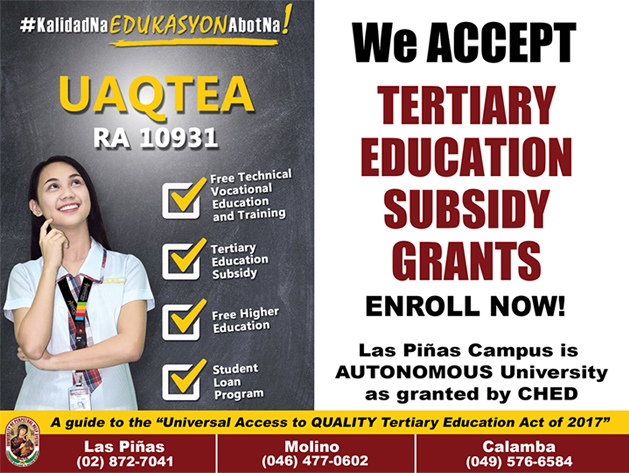 A Guide to the "Universal Access to QUALITY Tertiary Education Act of 2017"
With RA 10931, FREE education is NOW possible!
The law made it possible for students to pursue quality college education without paying tuition and other school fees in 112 State Universities and Colleges (SUCs) and 78 CHED-recognized Local Universities and Colleges (LUCs). It also allows students to enroll in technical-vocational education and training (TVET) programs in public training institutions for free.
It also provides financial aid to students from the poorest of the poor households as well as loan programs for students who need additional finances to support their tertiary education.
CHOOSE WHAT'S BEST FOR YOU! ENROLL NOW!
Free Higher Education
Free Technical-Vocational Education and Training
Tertiary Education Subsidy
Student Loan Program
Frequently Asked Questions
Who CAN avail of the TES?
The priority beneficiaries for the Tertiary Education Subsidy (TES) are:
Continuing ESGP-PA Scholars in the SUCs effective AY 2019 – 2020
Students who are part of households included in the Listahanan 2.0 of DSWD, ranked according to the estimated per capita household income
Student not part of the Listahanan 2.0, ranked according to estimated per capita household income based on submitted documentation of proof of income to be determined by the UniFAST Board
Provided further, that such prioritization shall not apply to Filipino students in cities and municipalities with no existing SUC or LUC campus.
What are the conditions for the TES grant?
TES grantees can only enroll in the following:
For Higher Education:
Undergraduate course/program in any SUC campus that has Board approval;
Undergraduate courses with Certificates of Program Compliance (COPCs) in CHED-recognized LUCs; and
Undergraduate courses with COPCs in private institutions listed in the UniFAST registry of Quality-Assured institutions and Programs.
For TVET:
TVET program with Certificate of Program Registration (CoPR) and officially listed in the TESDA Compendium of Registered Program in any public or private technical-vocational institution (TVI)
Beneficiaries enrolled in higher education programs will enjoy a full academic-year of the grant amount, subject to yearly renewal based on their continued studies.
Benefeciaries enrolled in TVET programs will enjoy a full-year grant amount or the amount equivalent to the recommended period of completion of the program, whichever is shorter.(Section 24-c IRR of RA 10931)
Who CANNOT avail of the TES?
The following students are NOT ELIGIBLE to avail of TES benefits (Section 28. IRR of RA 10931):
For Higher Education
Students enrolled in programs and/or institutions not included in the Registry of CHED-recognized programs and institutions;
Students who have exceeded the Maximum Residency Rule (MRR) of their program.
For TVET:
Learners enrolled in TVET programs not in the Registry of TESDA
Learners enrolled in TESDA-registered programs in any TVI who availed of government-funded StuFAPS other than Free TVET.
What are the benefits of the TES?
Private HEIs and TVIs
Students enrolled in private HEIs and TVIs are entitled to the following benefits (Sections 23 and 24. IRR of RA 10931):
Tuition and other school fees, which shall be equivalent to the tuition and other school fees of the nearest SUC and State-run TVI in their respective area.
Allowance for books, supplies, transportation, and miscellaneous personal expenses, including a reasonable allowance for the documented rental or purchase of personal computer or laptop, and other education-related expenses
Allowance for room and board costs incurred by the student.
Are there additional benefits for TES beneficiaries in a program requiring professional license or certification?
Yes. Students enrolled in programs requiring professional license or certification will be given the one-time cost of obtaining the first professional credentials or qualifications, which may include notarial fees, review classes fees, insurance premium fees and documentation fees (Section 23-e IRR of RA 10931).