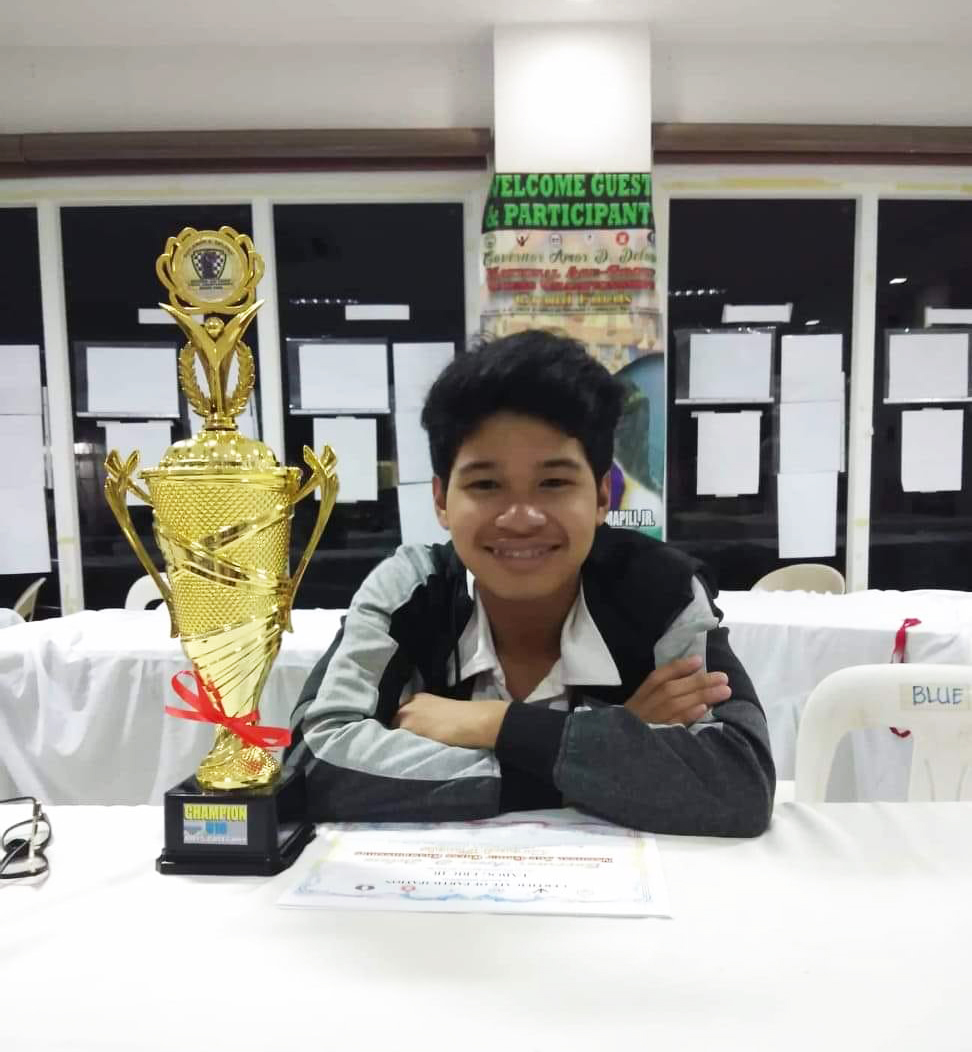 Eric Labog Jr, 17 year old, Grade 10 pupil of University of Perpetual Help System Dalta (UPHSD)
Perpetual Altas Woodpushers rule 20th ASEAN Championship.
John Marx Anastacio came through with an excellent performance to bag the Under 30's gold in thrilling fashion at the close of the rapid competition of the 20th Asean Age Group Chess Championships 2019 at the Golden Mandalay Hotel and Hotel Hazel in Mandalay City, Myanmar on Monday. June 17, 2019.
Anastacio, a first year College BS Accountancy student at the University of Perpetual Help System Dalta (UPHSD) Las Piñas City campus outsmarted former solo leader fellow Filipino Jhoemar Mendiogarin in the seventh and final round.
Anastacio, one of the top players of Altas Chess Team under national coach International Master (IM) Roel Abelgas and coach Kenneth Martin Rovillos was tied with Mendiogarin with 6.0 points but got the higher tie-break score to win the Open Under-30 division.
However, both, Anastacio and Mendiogarin, both won the individual gold medal according to International Arbiter Wilfredo Neri. Anastacio, Mendiogarin and Woman Fide Master Michelle Yaon combined total 15.5 points to bag the gold in the team competition.
"I'm overwhelmed and near-speechless right now because this is my best finish in an international competition. I really want to win my last game and all the hard work paid off," said Anastacio.
"First I would like to thank God for giving me talent. Second, I would also my parents, UPHSD Family, Altas Chess Team, especially President Anthony Tamayo and Chaiman Tony Tamayo for their support, national coach International Master Roel Abelgas, Coach Kenneth Martin Rovillos, who helped me refine my moves," he added. "Without them this victory would not be possible." *
Sharing the limelight is International Master elect Eric Labog Jr., a Grade 10 pupil of University of Perpetual Help System Dalta (UPHSD) in Las Pinas City split the point with Dang Anh Quoc of Vietnam to create a three-way tie for first place along with compariots Christian Mark Daluz and Fide Master Stephen Rome Pangilinan. Daluz settled for a truce with countryman Alfonzo Louis Olendo as well Pangilinan halving the point with Bui Duc Huy of Vietnam in the Under 18 year old division.
"Congratulations to Altas Chess Team led by Coach Roel Abelgas for giving honor to our dear institution, it's a great start to to defend our crown in NCAA Season 95 this coming year." UPHSD Chair Tony Tamayo said. upon their arrival from Myanmar, Tuesday. (Dennis Abrina)