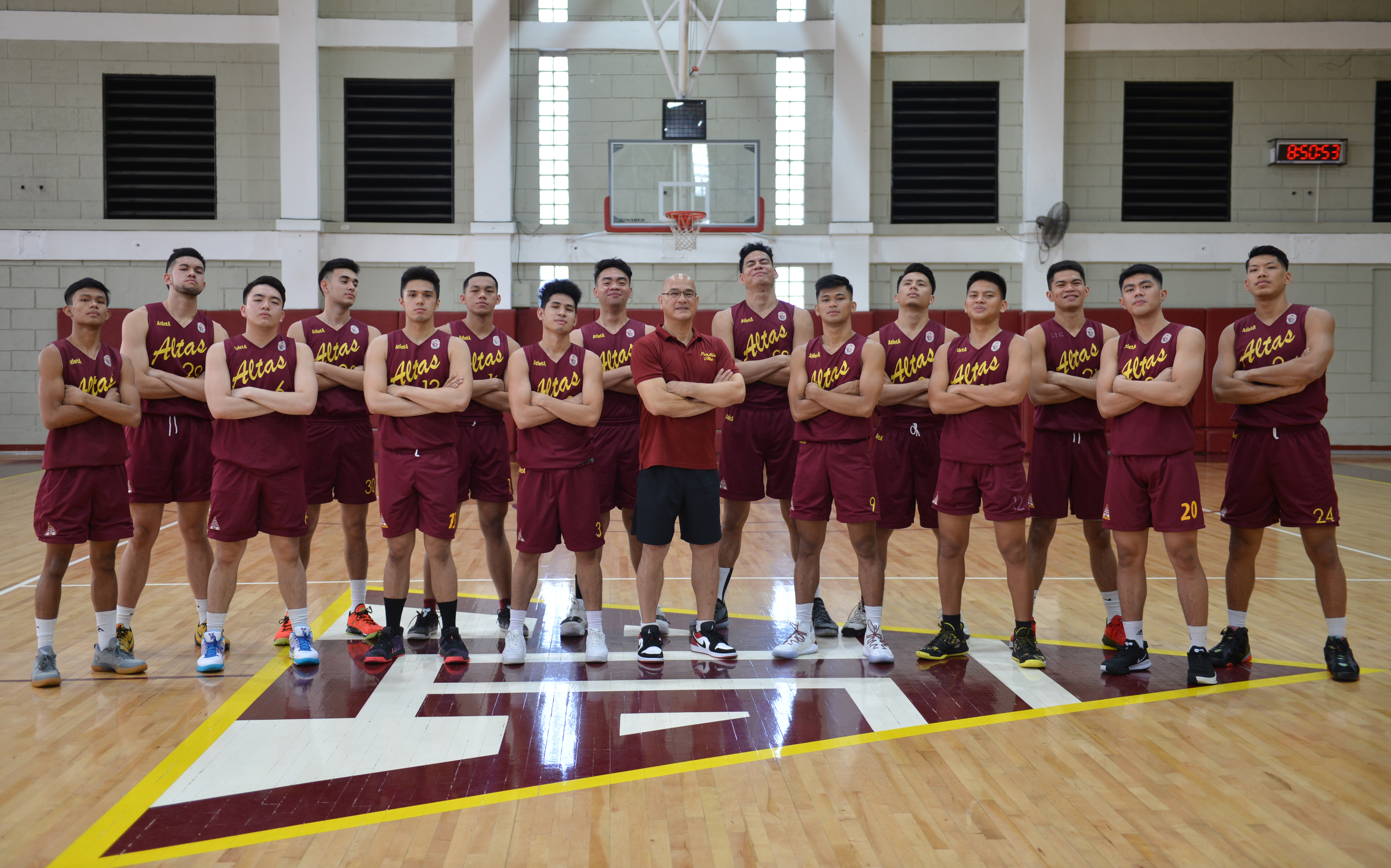 The line up of Perpetual Altas seniors basketball team of Head Coach Frankie Lim for the NCAA Season 95.(Photo by Dennis Abrina)
Altas ready for 'NC' Season 95
With the exit of five key players of the Altas, Coach Frankie Lim beef-up the line up of the Perpetual Altas Basketball with the entry of nine rookies, who came from different schools and recruited in Visayas and Mindanao.
Rookie laden Altas aims to surpass the last year's Final Four finish together with Season 94 champion San Beda U Red Lions, LPU Pirates and Letran Knights.
The Las Piñas City-based are now undergoing intense twice a day training inside the newly renovated state-of-the-art basketball court in Barangay Pamplona III, according to Coach Lim.
Frankie Lim will rely on his mainstay point guard Edgar Charcos, sophomores Jielo Razon, (SG), Jasper Cuevas (PG), Luke Sese (SG), forward Ton Ton Peralta and Anton Tamayo.
Transferees 6'5 center Ben Adamos, power forward Lean Martell and Lele Guissani from San Beda U will replace the post left by NCAA season 94 MVP Prince Eze, AJ Coronel and Rom Mangalino, While 6'7 rookie Mario Barasi Jr. out of FEU Diliman will be Adamos' back up big man on the defense.
Prize recruits Jeff Egan from Bukidnon and Ramlee Lanoy from Saint Francis of Assisi, who has see action in PBA D-League last season, will show their force in the court.
La Salle Zobel High School graduates Nathaniel Sevilla and Benedict Jomalesa and Aldeo Lucero from Davao will complete the line up of the Senior Altas.
"Our main target first is to win every games, until the end of the double elims, 2nd is to enter the Final Four," Coach Frankie Lim said.
"With the support Perpetual Community and Management and the Team Owner Boss Tony Tamayo and UPHSD President Anthony Tamayo, we will do our best to reach the elusive crown." Lim added.
NCAA Season 95 will unfurls on July 7, 2019, Sunday at the Mall of Asia Arena in Pasay City with this year's theme: Kaisa sa Pagkakaiba. (Dennis Abrina/UPH)