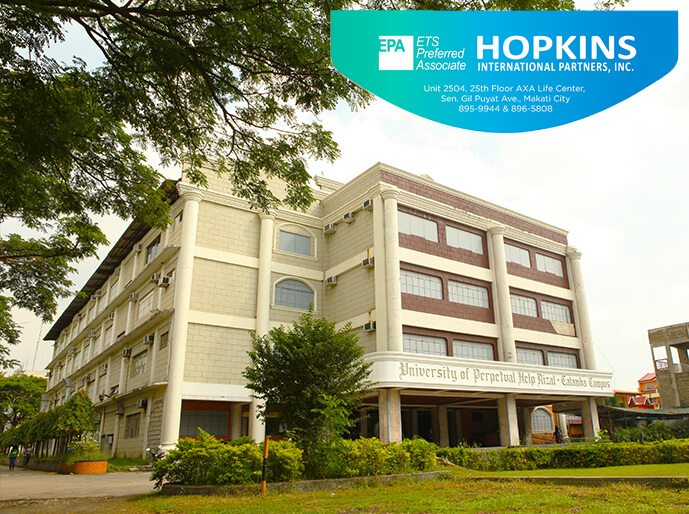 Perpetual Help Calamba Utilizes the TOEIC® Global Certification Program and Produces 6 Perfect Scorers
The University of Perpetual Help System DALTA (UPHSD) – Calamba Campus has taken a step to certify their students' English proficiency through the Test of English for International Communication (TOEIC®) to assure that they are producing globally competitive graduates.
Both students and faculty members took the TOEIC® assessment, where six scored a perfect TOEIC® score showing that UPHSD – Calamba is strongly committed to developing competent and globally competitive students. The university has taken the assessment last 2018, making the first step to evaluate their curriculum and realize their students' need for English language competitiveness.
Providing quality education for the last 22 years, the university believes that they can help their students achieve their goals and be globally competitive simultaneously. They accomplish this by ensuring English proficiency in their technical courses and their curriculum.
The university continually produces board topnotchers in their technical fields, and with TOEIC®, they are likewise creating globally certified TOEIC® top-notchers, as they have been incorporating the assessment in their students' learnings for two years, from 1st year to 4th-year college students.
With the help of TOEIC®, these students and the university can easily measure the English proficiency of their students at an early stage and help them improve as early as their freshman year. As it is recognized in over 14,000 organizations across 150 countries, TOEIC® helps institutions, like UHPSD – Calamba, to assess their curriculum and equip students with the right skills as early as today, and take action to help reach their students' goals. UPHSD – Calamba has chosen to partner with Hopkins International Partners, Inc. to assess their students with international standards and will continue to collaborate on improving their students' communication skills in the coming years.
TOEIC® is one of the most widely used and respected English-language assessments in the world, recognized by multinational companies like LG Electronics, Shell, Accenture, and Canon. This assessment serves as a stepping stone for students to pursue education or a career locally and abroad by certifying their English skills and meet international standards. At an early age, these assessments help students be aware of their English skills, where the university also takes steps to help improve the curriculum and their students' capacity.
The University of Perpetual Help System DALTA – Calamba Campus, together with the Las Piñas and Molino Campuses, have taken the vital step to start their students' journeys to certify English proficiency. To know more about TOEIC®, you may visit the Hopkins International Partners official Facebook page @TOEIC®.hopkins and our website at http://www.hopkins.ph.
Source: https://www.facebook.com/toeic.hopkins/posts/2434605456561996