Basic Education
Building the Leaders of Tomorrow!
The Basic Education Program of the University of Perpetual Help consists of Kindergarten, Grade School, and Business High School. The University's Basic Education Department nurtures and educates the leaders and achievers of tomorrow. The University builds a strong foundation by providing its students with a business-inclined K-12 program.
The UPHSD Graduate School believes that critical thinking in diverse and multicultural experiences are valuable ingredients to academic freedom which can be nurtured by a continuing interchange among students, faculty and peers who employ collaborative roles for further discovery, refinement, and application of knowledge in the business entities and communities they serve.
The UPHSD Graduate School is an interdisciplinary institute that provides leadership in transforming and developing change agents and managers of resources through peer-exchange and executive mentoring in a diverse and highly competitive knowledge-based environment.
To enhance the quality of learning across all programs in order to safeguard the value of academic integrity and excellence;
To assist the University in building a world-class educational system through faculty, staff and alumni programs;
To support graduate students from recruitment, registration, retention to graduation;
To advance diversity of graduate education using both traditional approaches and technologically advanced tools;
To encourage research programs that address emerging academic issues and challenges resulting from government legislations and policy advocacies from private sector-led groups; and,
To achieve recognition of the graduate school as the apex of innovation in academic output and excellence.
Academic programs that are responsive to the needs of industries and students
Programs are regularly modified to compensate for changes in job requirements and technology
Limited class size to maximize learning & student performance
Team-teaching strategies to engage faculty of relevant competencies
One-stop service shopping: dedicated staff provides full assistance to students and all their academic concerns
Community of students even beyond classrooms through consulting practicum and actual engagements
International linkages for research and global competitiveness
Learning Activities and Programs
Activity Modules facilitate a stimulating learning environment.
Assignments allow students to prepare and to upload their work to the internet.
Chat media allow students and faculty to discuss their modules.
Forums and structured classes provide intellectual interchange within a vibrant and multidisciplinary graduate community.
Continuing Education for Professionals
Continuing Education for Professionals is designed initially for Non-Education Degree Holders who would like to prepare themselves for a Licensure Examination for Teachers (LET). It is a certificate program that caters to working executives, professors and teachers who can pursue their studies and attend school on Saturdays. Working like the CEMBA approach, the 30-unit courses can be delivered under the Modular Approach Program.
Supplemental Programs for Licensure Examination for Teachers (LET)
Business Management for Executives
Enhancement Programs for Professionals
OD Diagnostics and Interventions
Community Relations and Development
Religious Studies
Emergency Medical Services
Events Management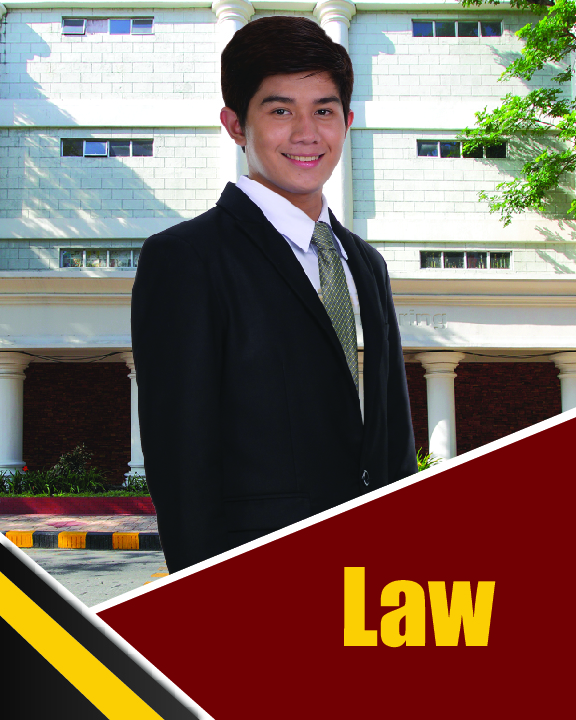 Go where Justices, Judges, Prosecutors, Excellence Awardees, BAR reviewers, BAR examiners and legal experts in their respective fields will lead you to become successful lawyers.
We give you ready access to the country's best legal minds.
S.C, Assoc. Justice  Minita V. Chico-Nazario (ret.)
Dean, College of Law
C.A, Assoc. Justice  Rodrigo V. Cosico (ret.)
Associate Dean
C.A, Assoc.  Justice Amelita G. Tolentino (ret.)
C.A, Assoc.  Justice Zenaida T. Galapate-Laguilles
OSG, Asst. Sol. Gen.  John Emmanuel F. Madamba
RTC Judge Caroline Rivera-Colasito
RTC Judge Dolores L. Español (ret.)
RTC Judge Gener M. Gito
RTC Judge Emily L. San Gaspar-Gito
RTC Judge Amelia T. Infante (ret.)
RTC Judge Abigail S. Domingo-Laylo
RTC Judge Myra A. Bayot-Quiambao
RTC Judge Josefina E. Siscar
RTC Judge Gregorio L. Velasquez
MeTC Judge Andy S. De Vera
Prosecutor Mary Glenn T. Moldez
DOJ Asst. Sec – Atty. George O. Ortha II
Atty. Ariel Joseph B. Arias
Atty. Darwin R. Bawar
Atty. Antonio P. Bonilla
Atty. Erika Frances S. Buluran
Atty. Celso L. Cruz
Atty. June Abigail S. Dela Cruz
Atty. Ronald B. Dime
Atty. Jose Sonny G. Matula
Atty. Morgan R. Nicanor
Atty. Romeo R. Robiso
Atty./ Dr. Bienvenido V. Tianco
Atty. Alonzo R. Tinagan
Judge Jesusa P. Maningas (ret.)
Administrative Officer
Ms. Jocelyn H. Pinlac
Administrative Asst.
Ms. Areeya Eunice R. Abenoja
Office Staff
The College of Architecture provides students with a dynamic education through a broad academic foundation of theories and principles essential to professional work in architecture.
The Architecture program introduces students to a broad knowledge in the art and science of designing buildings, open areas, communities, and other physical environments where people live in.
The education is project-oriented with an emphasis for collaborative learning between the faculty and students. It aims to develop a student's design and practical skills where you will learn to incorporate ethics, aesthetics, technology, and environment sustainability in your design projects.
Bachelor of Science in Architecture (Mol, Cal)
The College of Arts and Sciences recognizes the multidimensionality of human intelligence and aspires to educate future liberal arts practitioners who can communicate effectively, think critically, act creatively, and uphold Christian faith and values.
AB in Communication (All campuses)
AB in Multimedia Arts (Mol)
AB in Political Science (LP)
AB in Psychology (All campuses)
BS in Psychology (LP)
At the School of Aviation, we teach the science, the practice, and the business of aviation and avionics. We prepare students to become qualified airmen to assume leading roles particularly in the areas of aircraft research, development, manufacturing, maintenance, operation, and aviation education through comprehensive training, modern facilities, and highly qualified faculty.
Our training courses comply with all the requirements laid down by the Air Transportation Office of the Philippines, International Engineering and Technological Standards Regulations in Aviation, and Civil Aviation Authority of the Philippines.
(LP only)
BS in Aircraft Maintenance Technology
BS in Aviation Electronics Technology
Aircraft Maintenance Technology
Aviation Electronics Technology
Private Pilot License Course
Commercial Pilot License Course
Flight Instructor Course
In College of Business Administration and Accountancy (CBAA), students develop effective skills of analysis, strategic thinking, communication, and techniques on managing different personalities – crucial tools for a successful career. CBAA improves its programs to promote peer learning, individual academic advising, networking opportunities, and fun college events. Whatever industry or company our graduates will seek employment from, they will be armed with useful skills and valuable knowledge ready for vast and varied career opportunities in the business world.
BS in Accountancy (All campuses)
BS in Accounting Technology (All campuses)
BS in Business Administration major in:

Business Management (Mol)
Human Resource Development Management (LP, Mol, Cal)
Marketing Management (All campuses)

BS in Custom Administration (LP)
BS in Entrepreneurship (All campuses)
The College of Computer Studies is committed to produce globally competitive IT professionals through its continuous improvement of its curricula, up-to-date computer laboratory rooms and globally recognized certification exams.
Education at the College of Computer Studies features a rigorous curriculum, small classes, informed faculty, involved learning community, and entertaining social events. Our faculty and staff work passionately to provide up-to-date and relevant education to produce skilled graduates who are ready to meet industry demands.
BS in Computer Science (All campuses)
BS in Information Technology (All campuses
The College of Criminology aims to produce graduates imbued with technical skills and knowledge in the field of law enforcement, public safety, industrial security and social defense, coupled with a deep sense of loyalty to God, country, people, and Alma Mater.
The College aims to foster the values of leadership, integrity, accountability and responsibility among graduates through outstanding career services in the country's criminal justice system.
At the end of the program, criminology students must have developed techniques, skills, knowledge, competencies and attitude in:
The conduct of criminal investigation and detection.
Criminal law and court procedure
Law enforcement, crime prevention and control.
The maintenance of peace and order, public safety and security.
Research and inquiry on the nature, causes, treatment or punishment of criminal behaviour and how criminal justice agencies respond to crime, criminals and victim
Moral and spiritual uprightness
BS in Criminology (All campuses)
The College of Engineering offers seven (7) courses, namely:
BS in Aeronautical Engineering (LP)
BS in Civil Engineering (LP & Cal)
BS in Computer Engineering (All campuses)
BS in Electrical Engineering (All campuses)
BS in Electronics Engineering (All campuses)
BS in Industrial Engineering (All campuses)
BS in Mechanical Engineering (LP & Cal)
Each one is designed to equip students with the necessary learnings in the world of engineering.
The Bachelor of Science in Civil Engineering is a profession that applies the basic principles of science in conjunction with mathematical and computational tools to solve problems associated with developing and sustaining civilized life on our planet. It is one of the broadest engineering discipline both in terms of the range of problems that fall within its preview and in the range of knowledge required to solve those problems. Civil Engineering works are generally one-of-a-kind projects; they are often grand in scale; and they usually require cooperation among professionals of many different disciplines.
The Bachelor of Science in Computer Engineering program of the College of Engineering is designed to produce graduates that applies engineering principles and methodologies in the analysis, design, implementation and management of hardware, software and the integration of both.
The Bachelor of Science in Electronics Engineering curriculum is designed to develop engineers who have a background in mathematics, natural, physical and allied sciences. As such, the curriculum contains courses in mathematics, science and engineering fundamentals with emphasis on the development of analytical and creative abilities. It also contains language courses, social sciences and humanities. This is to ensure that the electronics engineering graduate is articulate and is able to understand the nature of his/her special role in society and the impact of his/her work on the progress of civilization.
The Bachelor of Science in Industrial Engineering program of the College Engineering program must have specialized knowledge and skills and in the mathematical, physical, and social sciences together with the principles and methods of engineering analysis and design to specify, predict, and evaluate the results to be obtained from such systems.
The Bachelor of Science in Mechanical Engineering is a profession that concerns itself with mechanical design, energy conversion fuel and combustion technologies, heat transfer, materials, noise control and acoustics, manufacturing processes, rail transportation, automatic control, product safety and reliability, solar energy, and technological impacts to society.
The Bachelor of Science in Electrical Engineering program of the College of Engineering designed to produce industry needs, latest trends and technology in the field of Electrical Engineering. The program deals with the generation, transmission, distribution and utilization of electricity. It also deals with the design, operation and protection, maintenance and economics of electrical systems with emphasis on ethical values to harness economically and safely the materials, and forces of nature for the benefit of society and the environment.
Following the provisions of Republic Act Numbers 7722 and 10647, Executive Order 330 and Commission on Higher Education Memorandum Order 28, series of 2013, UPHSD ETEEAP is leadership and management of equivalency and accreditation across programs and institutions. It is a system of identifying, assessing and assigning equivalent rank of college-level learning for prior learning obtained from formal, non-formal an informal training and relevant work experiences and completion of competency enrichment and other program requirements toward the final granting of an appropriate undergraduate academic degree.
AB in Communication
BS in Business Administration
Major in:
Human Resources Development Management
Marketing Management
BS in Hotel and Restaurant Management
The College of International Tourism and Hospitality Management (CITHM) educates the next generation of leaders and managers for the world's fastest growing and most dynamic industry.
The impressive CITHM building provides an ideal learning environment through modern facilities to allow students in honing their skills and knowledge in a realistic setting. Our curriculum is further strengthened through collaboration with industry leaders supported by our caring and nurturing faculty members who are equipped with extensive local and international industry experience giving students a perfect blend of theoretical and practical experiences.
BS in Hotel and Restaurant Management (All campuses)
BS in Tourism (All campuses)
Associate in Hotel and Restaurant Management (LP & Mol)
The University of Perpetual Help System currently offers, among its many accredited programs, three maritime programs, namely Marine Transportation, Marine Engineering, and Naval Architecture and Marine Engineering, which are available in two accessible campuses – one in Las Piñas City and the other in Biñan, Laguna.  Both campuses are equipped with the state of the art instructional facilities such as the Kongsberg Full-Mission Bridge and Engine Room Simulators and other technical laboratories.  Dedicated UPH maritime professionals are always ready to mold students to the best of their abilities while instilling in them the core values of professionalism, teamwork and excellence which are essential to the students' pursuit of a dignified maritime profession.  Recently, Senior High School with Pre-Baccalaureate Maritime Specialization has likewise been introduced into the system.
 (LP Only)
BS in Marine Engineering
BS in Marine Transportation
BS in Naval Architecture and Marine Engineering
The University of Perpetual Help System Dalta – JONELTA Foundation School of Medicine is a thriving community of educators, scientists, clinicians, students, and even lawyers working together to educate, learn, discern, heal, and serve. The curriculum promotes exhaustive research, collaborative learning, and individual initiative by providing a strong basic science preparation and extensive clinical experiences. Our main purpose is to promote compassionate, ethical, and competent medical practitioners ready to help people achieve healthy productive lives, advance knowledge in the medical sciences, and be informed advocates of change for a lifetime of achievement in the field of medicine.
Doctor of Dental Medicine (LP)
Combined with a highly structured curriculum that meets the needs of today's dental profession, a Perpetualite dental education underscores early exposure to patients providing a smooth transition from classrooms and laboratories to clinics.
BS in Medical Technology (All campuses)
The Bachelor of Science in Medical Technology is a four-year program which trains students in the performance of laboratory test procedures and analyses used in the detection, diagnosis, prognosis, prevention, and treatment of diseases with the use of modern equipment and scientific techniques.
The University of Perpetual Help – School of Midwifery prepares students to become professional midwives. It offers midwifery students with a broad education in clinical science, clinical management, evidence-based practice, and methods of systematic inquiry.
BS in Nursing (All campuses)
The College of Nursing comprehensively trains students to assume pivotal roles in nursing practice, nursing education and research. We have produced competent graduates who are now successful health care practitioners here and abroad.
BS in Physical Therapy and Occupational Therapy (All campuses)
The College of Physical and Occupational Therapy provides high quality of education that is recognized by relevant local and international professional bodies. We develop physical and occupational therapists who are competent imbued with social responsibility and integrity meeting and health care needs of their clients and individual, family, and community level across the lifespan.
BS in Pharmacy (All campuses)
The College of Pharmacy is known for producing graduates who consistently place higher than the national average on national licensing examinations. Our highly experienced faculty, dedicated staff, wide network, and practical training all work together to create a distinctive, immersive, and supportive academic environment to guide students toward successful and sustainable health care professions.
BS in Radiologic Technology (All campuses)
The College of Radiologic Technology is your premiere choice for a Radiologic Technology degree. Our highly competent faculty and supportive staff strive for excellence in education and service, which we aim to deliver every day. We are focused on providing the latest relevant competencies in Radiologic Technology.
BS in Respiratory Therapy (LP)
The Bachelor of Science in Respiratory Therapy prepares students to become competent and caring respiratory care practitioners. The curriculum is designed to train future Respiratory Therapists to take an active role in all the different clinical settings where respiratory therapy is practiced.
The University of Perpetual Help System DALTA College of Education is dedicated to develop future teachers of excellence and integrity with the skills necessary to explore and pursue solutions to current education issues and concerns. The curriculum provides many opportunities for classroom observation, projects, student teaching internships, and community engagement programs under the guidance of our nurturing and highly qualified faculty and staff. We strive to prepare our graduates to pass the Licensure Examination for Teachers and to become effective educators ready to meet any challenge with compassion, wisdom, and strength of character to excel in the dynamic and evolving field of education.
Bachelor of Elementary Education (All campuses)
Bachelor of Secondary Education (All campuses)
Teacher Certificate Program  (LP & Mol)
The Vocational Technology Department offers an exciting mix of practical experiential learning and classroom instructions in our modular courses and find which one is best for you. All our courses comply with TESDA's training regulations and cover the knowledge, skills, and attitudes needed in Technical Vocational Education and Training (TVET). The modules focus on the basic, common, and core competencies in accordance with industry standards. The student will obtain a National Certificate Level II (NC-2) upon completion of each course.
The Vocational Technology Department has TESDA accredited instructors who are holders of National Certificate Level II (NC-2), Assessment Methodology – Training Methodology (AM-TM) Certificate, Assessors Qualification – Trainers Qualification (AQ-TQ) Certificate, National TVET Trainers Certificate (NTTC), and Assessors Certificate.
Agricultural Crops Production NC1 (Cal)
Animal Production NC2 (Cal)
Auto Service Training with OJT in Japan (Autobacs) NC1 (LP & Mol)
Automotive Servicing NC1 and NC2 (LP)
Bartending NC2 (Mol)
Bread and Pastry NC2 (Mol)
Caregiving NC2 (LP & Mol)
Commercial cooking/Cookery NC2 (Cal)
Computer Hardware Servicing NC2 (Cal)
Consumer Electronics Servicing NC2 (Mol)
Cookery NC2 (Mol)
Food and Beverages Services NC2 (Mol & Cal)
Health Care Services NC2 (LP)
Housekeeping NC2 (Mol & Cal)
Medical Transcription NC2 (Cal)
Shielded Metal Arc Welding (SMAW) NC2 (All campuses)