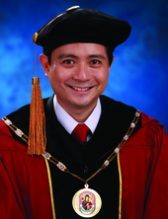 MR. ANTHONY JOSE M. TAMAYO
President
Dear Colleagues,
Welcome to the 1st International Research Forum on Arts, Science and Technology, hosted by the University of Perpetual Help System DALTA, Las Piñas Campus.
This year's theme, "AST 2020: Creating Synergies Towards the Future" is timely and relevant. It asks us to consider how the transcendence of the arts, science, as well as technology can provide vast opportunities, necessary for us to seek and demand a better future.
The AST Research Forum aims to bring people together in a variety of platforms to promote transdisciplinary studies and to revolutionize innovation in the academic global landscapes.
Finally, it is through this conference that we expand our networks. I have no doubt that you will find AST 2020 a fertile ground for the exploration of ideas, synergies, and research partnerships.
I look forward to meeting you all!