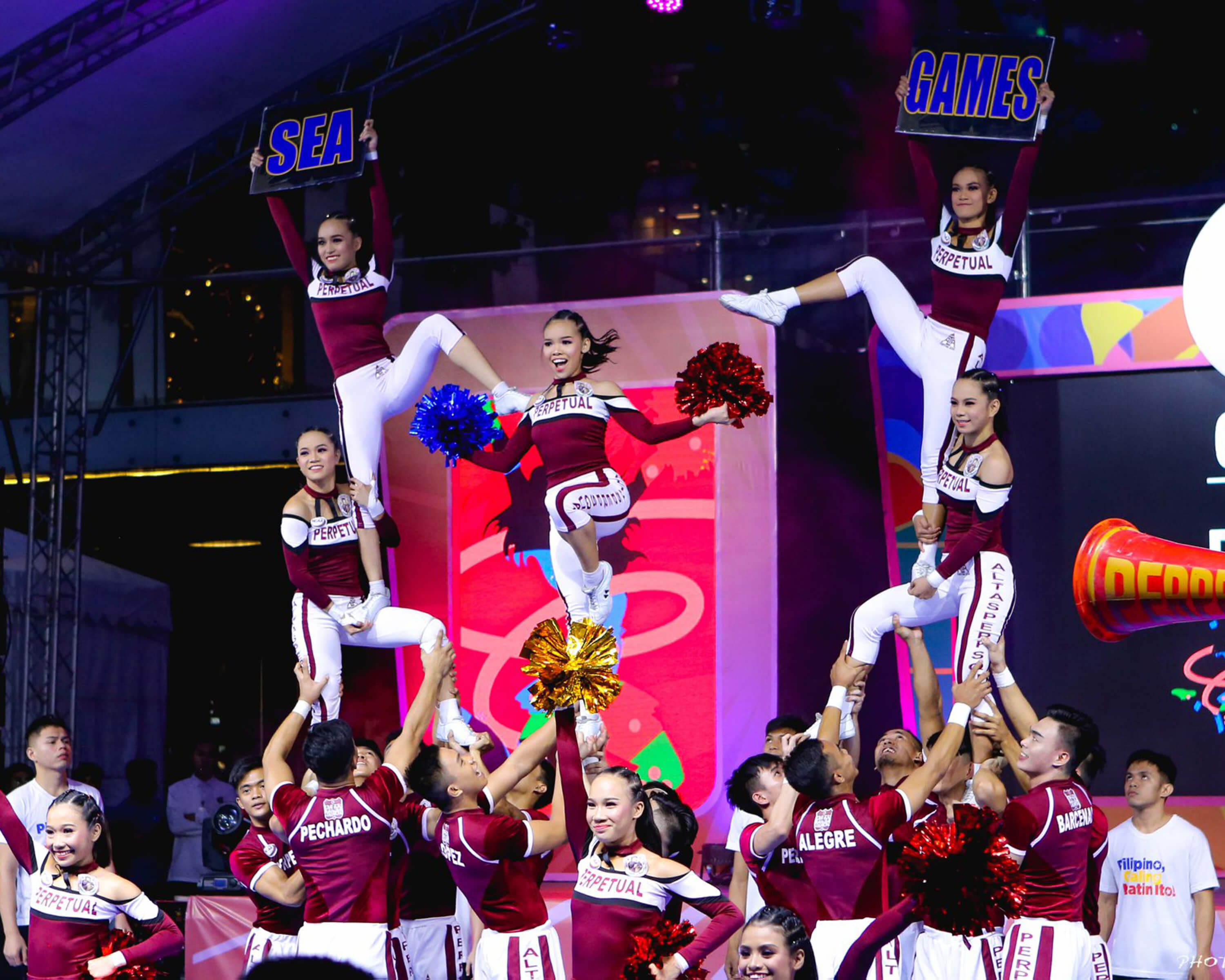 Altas Perps Squad shows-off their skills in pyramid as they won the 'Dance As One' Cheerdance Competition held at BGC Amphitheater held in Taguig City, Tuesday, November 12, 2019. (Text by Dennis Abrina/Photo courtesy of Raffy Dela Peña)
Congratulations!
Altas Perps Squad won Dance as One Cheerdance Tilt.
TAGUIG CITY, NCR, Philippines. – National Collegiate Athletic Association (NCAA) 9-Time Champion Altas Perps Squad won the Dance as One Cheerdance Competition held Tuesday, November 12, 2019 at Bonifacio Global City (BGC) Amphitheater here.
Coach Ruf Vandolph Rosario mentored pep squad outsmarts four other finalists EAC Pep Squad, QCPU Pep Squad, ICA Pep Squad and Rizal Technological U Pep Squad and gained the outright to show their stunts, pyramid and synchronized dance steps and perform 'Live' at 30th Southeast Asian Games opening ceremony at Philippine Arena in Bocaue Bulacan on November 30, 2019
"It is an honor for our beloved school to be part of opening historic sports competition." Perpetual owner Dr./Brig.Gen Tony Tamayo said in interview.
Immaculate Conception Academy (ICA) placed 1st runner up, while RTU settles for 2nd runner up.
"l always tell the kids that in every competition "ang kalaban niyo hindi ibang teams but ang sarili niyo" you should learn how to handle pressure, relaxation and balancing .. ikaw ang mag control ng sarili mo hindi ibang tao". Coach Ruf Vandoplh Rosario said in interview.
"To all the Filipino athletes, please continue your passion and never stop learning … step by step I know someday all our hard works will pay off Laban Pilipinas! " Rosario added.
He explained that the squad will perform also in halftime of some sports events in the country during the 13-days Biennial meet from November 3- to December 11, 2019. (Dennis Abrina)
Your Perpetual Community is proud of you!