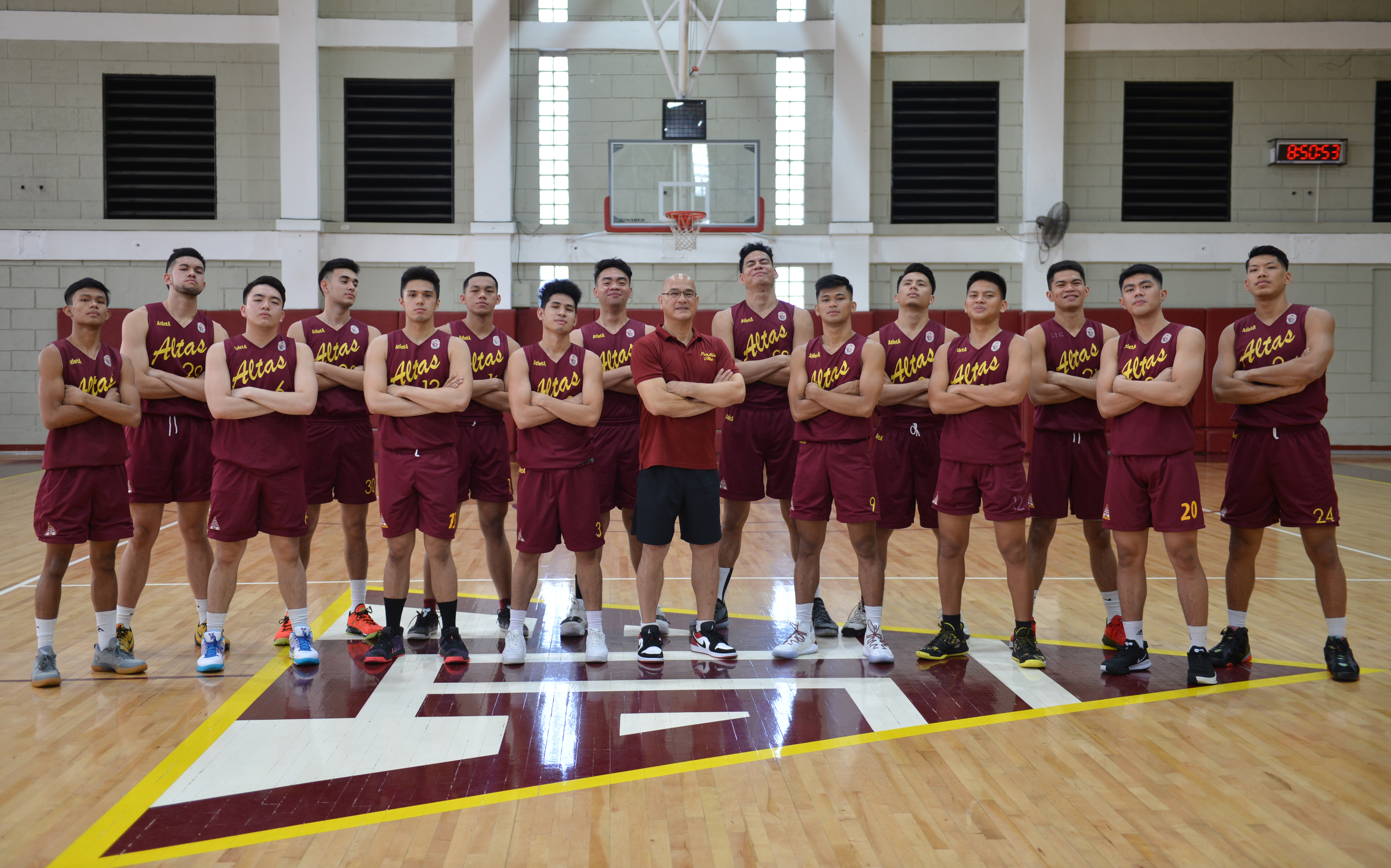 The line up of Perpetual Altas seniors basketball team of Head Coach Frankie Lim for the NCAA Season 95.(Photo by Dennis Abrina)
Altas ready for 'NC' Season 95
With the exit of five key players of the Altas, Coach Frankie Lim beef-up the line up of the Perpetual Altas Basketball with the entry of nine rookies, who came from different schools and recruited in Visayas and Mindanao.
Rookie laden Altas aims to surpass the last year's Final Four finish together with Season 94 champion San Beda U Red Lions, LPU Pirates and Letran Knights.
The Las Piñas City-based are now undergoing intense twice a day training inside the newly renovated state-of-the-art basketball court in Barangay Pamplona III, according to Coach Lim.
Frankie Lim will rely on his mainstay point guard Edgar Charcos, sophomores Jielo Razon, (SG), Jasper Cuevas (PG), Luke Sese (SG), forward Ton Ton Peralta and Anton Tamayo.
Transferees 6'5 center Ben Adamos, power forward Lean Martell and Lele Guissani from San Beda U will replace the post left by NCAA season 94 MVP Prince Eze, AJ Coronel and Rom Mangalino, While 6'7 rookie Mario Barasi Jr. out of FEU Diliman will be Adamos' back up big man on the defense.
Prize recruits Jeff Egan from Bukidnon and Ramlee Lanoy from Saint Francis of Assisi, who has see action in PBA D-League last season, will show their force in the court.
La Salle Zobel High School graduates Nathaniel Sevilla and Benedict Jomalesa and Aldeo Lucero from Davao will complete the line up of the Senior Altas.
"Our main target first is to win every games, until the end of the double elims, 2nd is to enter the Final Four," Coach Frankie Lim said.
"With the support Perpetual Community and Management and the Team Owner Boss Tony Tamayo and UPHSD President Anthony Tamayo, we will do our best to reach the elusive crown." Lim added.
NCAA Season 95 will unfurls on July 7, 2019, Sunday at the Mall of Asia Arena in Pasay City with this year's theme: Kaisa sa Pagkakaiba. (Dennis Abrina/UPH)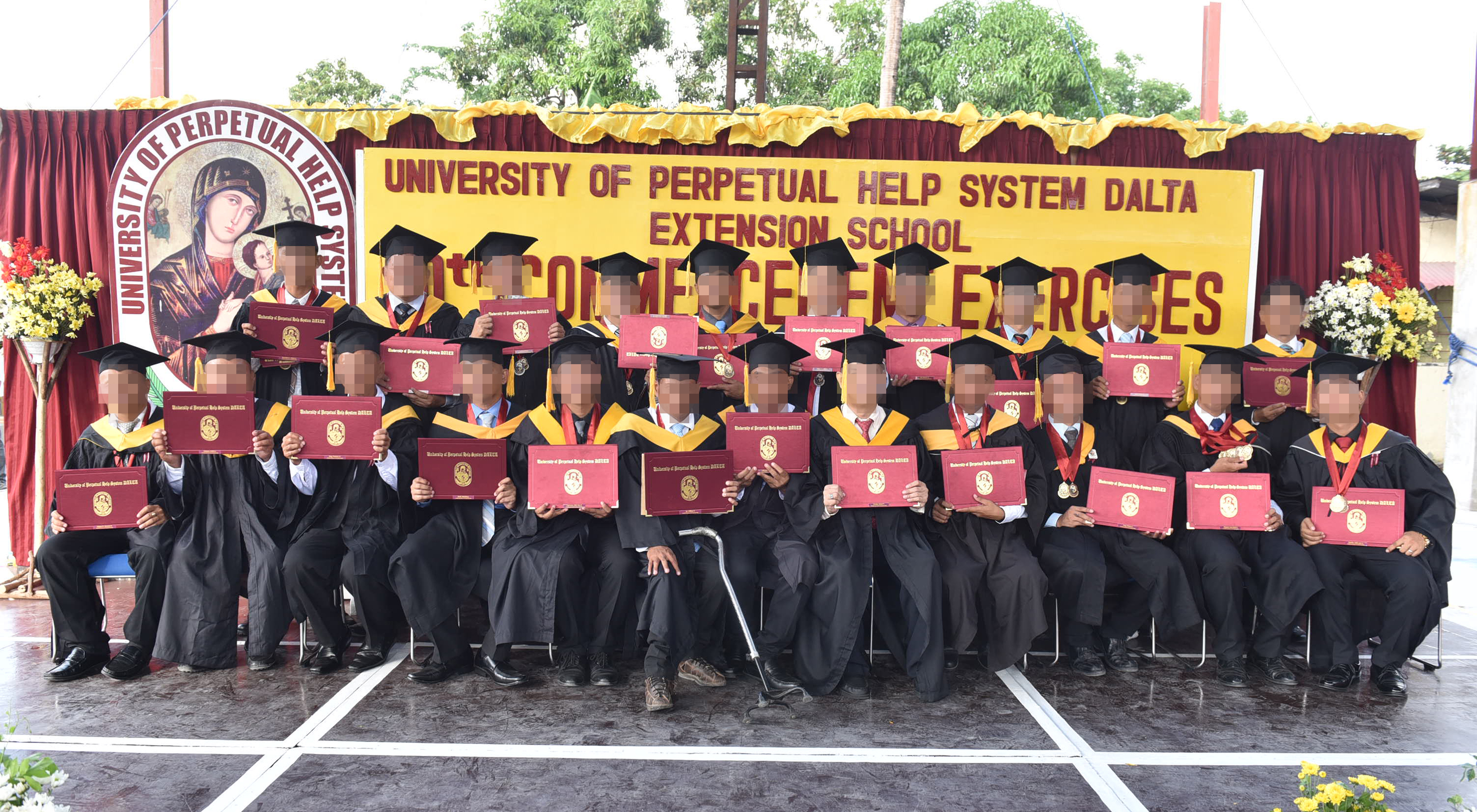 23 Students inmate graduates celebrate simultaneously when they throw their respective caps after the graduation ceremony at the 30th University of Perpetual Help Extension School, Camp Sampaguita, Medium Security Compound, New Bilibid Prison (NBP), Muntinlupa City on Thursday, May 9, 2019. 42 inmates also finished Computer Hardware Course and 22 completed the Senior High School. (Photo by Dennis Abrina/UPH)
Disclaimer: Faces of the graduates are blurry and names are not included due to PRIVACY ACT LAW
23 Student inmates earned degree in Perpetual Bilibid Graduation Rites 2019.
MUNTINLUPA CITY. – 23 inmate students inside Medium Security Compound in Camp Sampaguita, New Bilibid Prison (NBP) in this city finished their 4 year degree course inside the penitentiary, last, May 9, 2019 during the 30th University of Perpetual Help Bilibid Extension School commencement Exercise at College Building.
On 89 graduates of Batch 2019, 23 of them finished degree of Bachelor of Science in Entrepreneurship, 42 finished Computer Hardware Servicing course and 22 completed the Senior High School program.
This year's guest of honor and speaker Director General Nicanor Faeldon of Bureau of Correction (BuCor) speaks before the student graduates and relatives of the inmate graduates at the newly erected college building covered court.
"This learning institution really helped inmate to reformed. Dapat lahat ganito para magtiwala ang mga investors to put up business here at NBP." Director General Faeldon said in his speech during the program.
"We need to have an alternative job to earn a living here inside this institution para mabuhay ang inyong mga pamilya sa labas at ng hindi kayo makaisip ng masamang gawain sa dito sa loob ng piitin." Faeldon added.
"The BuCor is now looking for a business industry that will put business here in jail to make every inmate a productive one." Faeldon added more.
Bilibid Extension School is a comprehensive program of the university seeks to help in rehabilitation of medium risk prisoners through education, skills, training and development, which now produced 564 graduates since it established in 1985 by UPH Chairman of the Board Dr/BGEN Antonio L. Tamayo.
The Bilibid Extension School in Camp Sampaguita is one of the Perpetual's Corporate Social Responsibility (CSR) program, together with the Mangyan Mission School in Sito Lawanan, Barangay Lumangbayan, Abra de Ilog, Occidental Mindoro.
42 students inmates received citations including the Gold Medallion for the Academic Excellence Awards for the BS Entrepreneurship and Dr. Antonio Laperal Tamayo Gold Medalion for Leadership Award. (Dennis Abrina/UPH)

ETEEAP PIONEERS JEREMY & PAOLO MARQUEZ JOIN BATCH 2019 GRADUATING CLASS

Brothers Jeremy and John Paolo Marquez join Batch 2019 Graduating Class with a degree in Bachelor of Science in Business Administration major in Human Resource Development Management (HRDM) under the ETEEAP program. 
The Expanded Tertiary Education Equivalency & Accreditation Program (ETEEAP) is an accreditation program under the Commission on Higher Education (CHED) which grants deserving individuals equivalency credits and/or appropriate academic degrees.
Both Jeremy and John Paolo took advantage of the opportunity offered by the ETEEAP Program to finally get their much-awaited yet much-deserved bachelor's degree.  All the hard work and the hurdles of balancing work and studies paid off.
Jeremy was an AB Political Science student when he entered public service full time.  For the last 17 years, Jeremy has been serving his constituents in Parañaque and is vying for the vice mayoral seat in the City.  "Our journey to excellence is never perfect.  Sometimes, we fail but what is important is that, we never give up."
Jeremy's younger brother, John Paolo started as SK Chairman and currently serves as Barangay Captain of Barangay BF Homes.  Like Jeremy, John Paolo is in public service for the last 17 years and counting.  He was formerly a BA student and now he finally earns his Business degree.  John Paolo says he wants to be a model to his growing child and he is very grateful to the ETEEAP program for giving him this opportunity.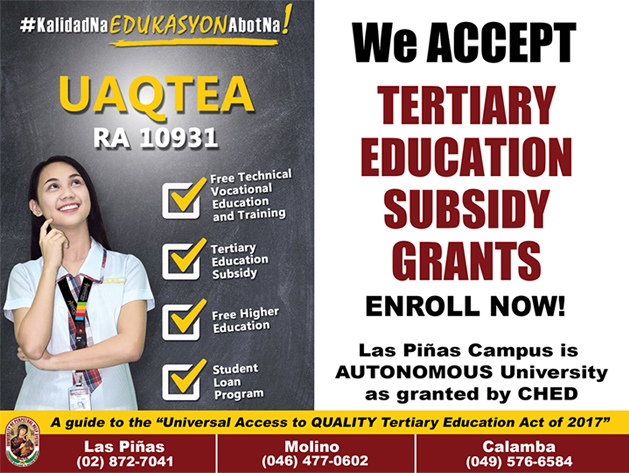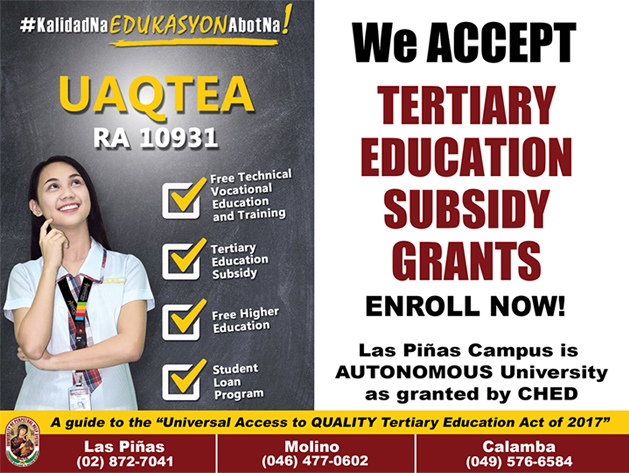 A Guide to the "Universal Access to QUALITY Tertiary Education Act of 2017"
With RA 10931, FREE education is NOW possible!
The law made it possible for students to pursue quality college education without paying tuition and other school fees in 112 State Universities and Colleges (SUCs) and 78 CHED-recognized Local Universities and Colleges (LUCs). It also allows students to enroll in technical-vocational education and training (TVET) programs in public training institutions for free.
It also provides financial aid to students from the poorest of the poor households as well as loan programs for students who need additional finances to support their tertiary education.
CHOOSE WHAT'S BEST FOR YOU! ENROLL NOW!
Free Higher Education
Free Technical-Vocational Education and Training
Tertiary Education Subsidy
Student Loan Program
Frequently Asked Questions
Who CAN avail of the TES?
The priority beneficiaries for the Tertiary Education Subsidy (TES) are:
Continuing ESGP-PA Scholars in the SUCs effective AY 2019 – 2020
Students who are part of households included in the Listahanan 2.0 of DSWD, ranked according to the estimated per capita household income
Student not part of the Listahanan 2.0, ranked according to estimated per capita household income based on submitted documentation of proof of income to be determined by the UniFAST Board
Provided further, that such prioritization shall not apply to Filipino students in cities and municipalities with no existing SUC or LUC campus.
What are the conditions for the TES grant?
TES grantees can only enroll in the following:
For Higher Education:
Undergraduate course/program in any SUC campus that has Board approval;
Undergraduate courses with Certificates of Program Compliance (COPCs) in CHED-recognized LUCs; and
Undergraduate courses with COPCs in private institutions listed in the UniFAST registry of Quality-Assured institutions and Programs.
For TVET:
TVET program with Certificate of Program Registration (CoPR) and officially listed in the TESDA Compendium of Registered Program in any public or private technical-vocational institution (TVI)
Beneficiaries enrolled in higher education programs will enjoy a full academic-year of the grant amount, subject to yearly renewal based on their continued studies.
Benefeciaries enrolled in TVET programs will enjoy a full-year grant amount or the amount equivalent to the recommended period of completion of the program, whichever is shorter.(Section 24-c IRR of RA 10931)
Who CANNOT avail of the TES?
The following students are NOT ELIGIBLE to avail of TES benefits (Section 28. IRR of RA 10931):
For Higher Education
Students enrolled in programs and/or institutions not included in the Registry of CHED-recognized programs and institutions;
Students who have exceeded the Maximum Residency Rule (MRR) of their program.
For TVET:
Learners enrolled in TVET programs not in the Registry of TESDA
Learners enrolled in TESDA-registered programs in any TVI who availed of government-funded StuFAPS other than Free TVET.
What are the benefits of the TES?
Private HEIs and TVIs
Students enrolled in private HEIs and TVIs are entitled to the following benefits (Sections 23 and 24. IRR of RA 10931):
Tuition and other school fees, which shall be equivalent to the tuition and other school fees of the nearest SUC and State-run TVI in their respective area.
Allowance for books, supplies, transportation, and miscellaneous personal expenses, including a reasonable allowance for the documented rental or purchase of personal computer or laptop, and other education-related expenses
Allowance for room and board costs incurred by the student.
Are there additional benefits for TES beneficiaries in a program requiring professional license or certification?
Yes. Students enrolled in programs requiring professional license or certification will be given the one-time cost of obtaining the first professional credentials or qualifications, which may include notarial fees, review classes fees, insurance premium fees and documentation fees (Section 23-e IRR of RA 10931).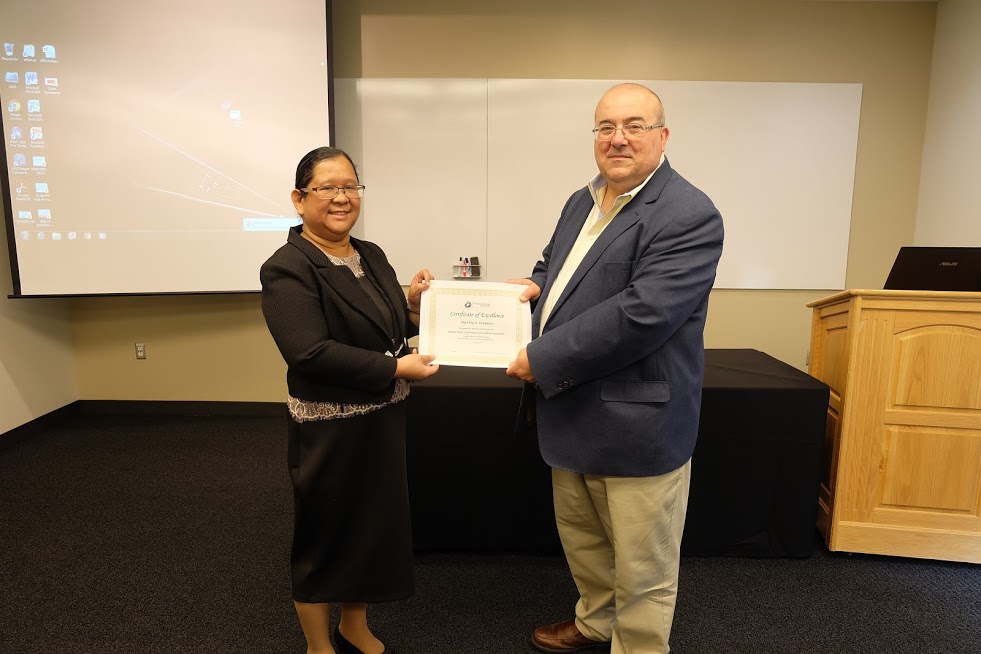 The University of Perpetual Help – Molino Campus newspaper adviser received a Certificate of Excellence from the International Journal of Arts and Sciences' (IJAS) Conference held last May 21-25, 2018 at the Room 217 Joseph B. Martin Conference Center at Harvard Medical School, 77 Avenue Louis Pasteur, Boston, Massachusetts.
Dr. Myla Pilar S. Pamplona presented her research entitled "Hilot, Tawas, Hula: Leads and Responses of Filipino Traditional Workers" at the Annual Multidisciplinary Research Presentation of the International Journal of Arts and Sciences.
"I love doing researches in Counseling Psychology and on Gender Issues," Dr. Pamplona said in her profile in the Harv2018 IJAS Conference website.
Dr. Pamplona is a professor of Psychology at the UPH Molino Campus. She is the head of the Student Personnel Services of the UPH-Molino Campus. #30